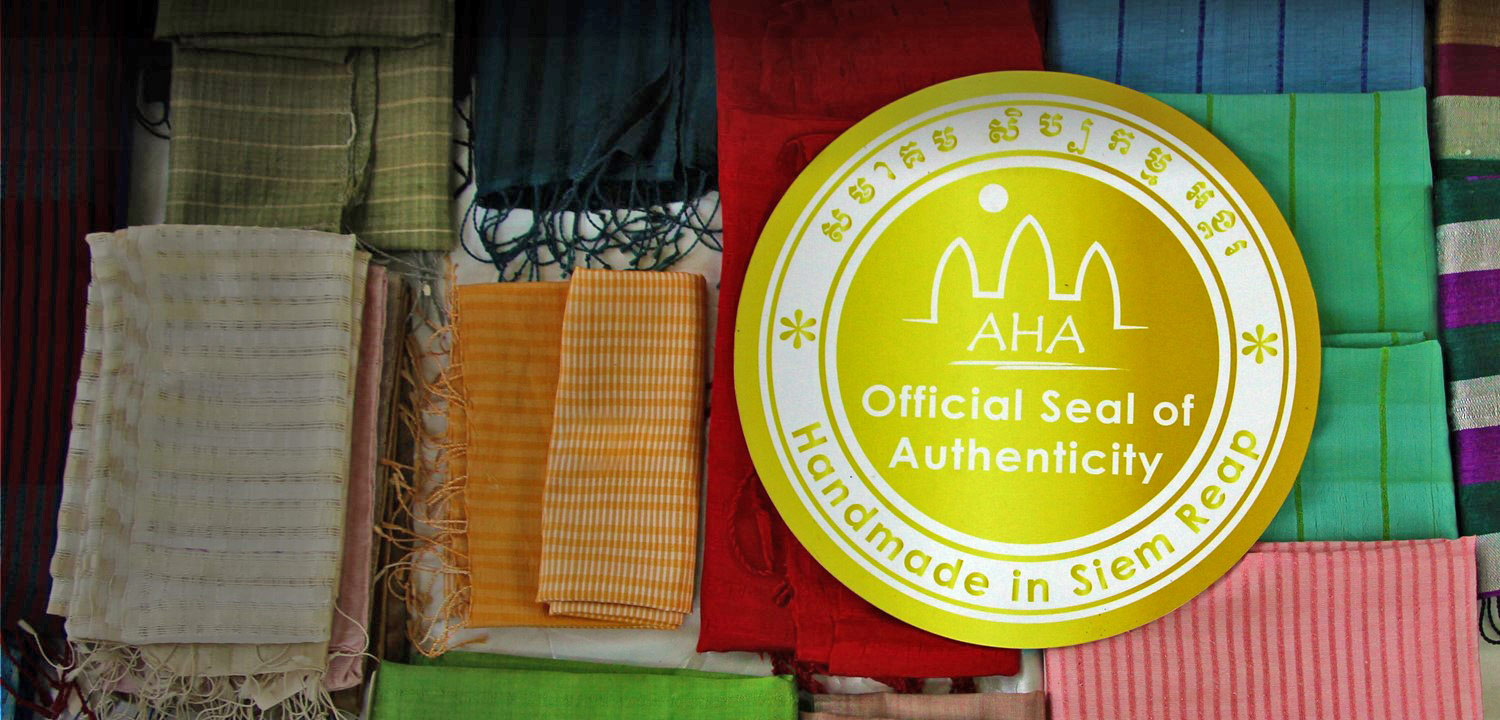 In busy workshops at Siem Reap's Fair Trade Village, some of Cambodia's most accomplished artisans are busy creating carvings, ceramics, jewelry and textiles. Every expert on site represents a small enterprise, and in many cases, an entire village devoted to a single craft. It's been this way for more than a millenia. To protect this crucial element of Khmer culture, the Angkor Handicraft Association is helping local communities compete with imported and manufactured copies of Khmer souvenirs that constitute 80% of the products sold in Siem Reap.
"I want all the tourists to buy real Cambodian handmade products," says Seyhak Son, a ceramist who moved from Kampong Cham to make his pottery at the Fair Trade Village. "All the products here are made by the Cambodian people. In many markets, there are a lot of products not made by Cambodian people, and not made by hand."
Part of the challenge is changing the perception of tourists so accustomed to buying cheap imported copies that it can be difficult to appraise the value of the genuine article. Conditioned to expect a small Kroma (traditional Khmer scarf) to cost $4 at a tourist market, it's not uncommon for a tourist well versed in haggling to expect an authentic Kroma to be similarly priced.
"The disadvantage of handicrafts and handmade is that the items take much longer to produce," Sarouen Sean, a wood carver from Banteay Srei explains. "Because of this, you cannot sell cheap, so it is more expensive than the market price. For international tourists who want to get a good souvenir, please look for the Seal of Authenticity."
"Tourists should be aware that most products displayed in the Pub Street area (Siem Reap) are imported from other countries," says Kim Davy, President of the AHA. "Every cent tourists spend [at the Fair Trade Village] goes to the community, the villages and the artisans. You can see that our handicrafts have the AHA Seal of Authenticity. There is a long process to earn the Seal of Authenticity because we are worried about misuse. That's why you rarely see the seal on products in other markets."
The AHA's initiatives appeal to discerning tourists who are determined to take home an authentic souvenir rather than purchasing a cheap copy. For a few more dollars, visitors can buy authentic handicrafts directly from the talented artists who made them, and play an essential role in the survival of traditional techniques. The more income villages earn from their trademark crafts, the more members of the community devote their time to developing skills.
"My real job is farming but I try to use my spare time to do something meaningful by using natural fibers to do basket weaving," says Chun Nam from Krabel Riel. "Sometimes international tourists buy my products and I use the money to support the family – expenses like clothes and food, and to send my children to school. It helps to provide more jobs which means more money for the village."
The Fair Trade Village exclusively stocks handicrafts that bear the Angkor Handicraft Association's Seal of Authenticity. When shopping at markets across Cambodia, look for the yellow label, and always make sure you closely study the detail of handicrafts to ensure you're purchasing genuine handmade goods.
Also read, Khmer handicraft techniques in danger as imitation handicrafts flood Siem Reap market stalls