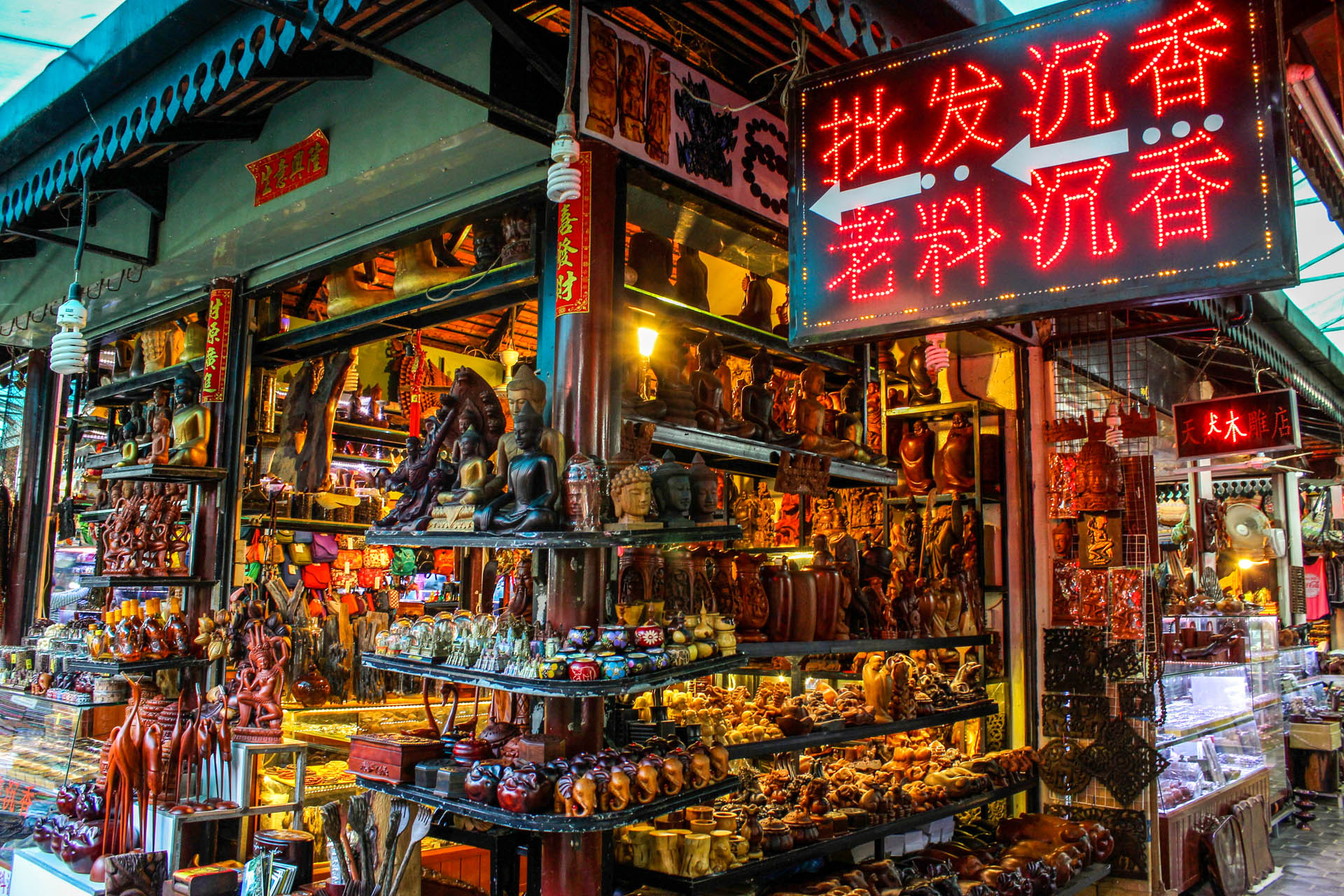 It's estimated that over 80% of the souvenirs sold at Siem Reap market stalls are imported and mass-produced. Many of these items are passed off as handicrafts, handmade in Siem Reap and its surrounding communities. This dangerous deception has caused a tragic disconnect between travelers and the thousands of skilled artisans who rely on tourist dollars to support their communities.
The scale of handicraft enterprises in nearby communities is commonly underestimated. More than 4,000 artisans are represented by the Angkor Handicraft Association, and the district's many small enterprises that rely on access to the tourist market are the key to retaining the techniques and designs found on temples and artifacts dating back to the 10th century when uniquely Khmer styles and designs emerged.
"I try to keep the skill of handmade pottery alive' explains Seyhak Son, a highly skilled ceramist from Kampong Cham. "I've been making pottery for 30 years, and I did this because most of the people in my village make pottery. My family and relatives also do it.'
"I asked my brother how to do wood carving and he taught me a very specialist way of carving,' says Sarouen Sean, team leader of the Eco-Tourism Committee in the Banteay Srei district. "I learned so fast that I established my own business in the Banteay Srei district in 2012. Because I had this knowledge in carving I wanted to share my experience with the neighbours, because it's very important to teach the children how to carve wood.'
When the Angkor Handicraft Association established the Fair Trade Village, it provided a much-needed conduit between small enterprises and the hundreds of thousands of tourists that flock to the area to experience Angkor Wat and the ruins of the ancient city that surrounds it. While still in its infancy, the market has already built a reputation for quality, authenticity and excellent service. This crucial link between artisans and customers has lead to the expansion of many small enterprises.
"This job is very important to me, my family and my weavers,' says Him Young from the Bakong District, who learnt to weave silk from her mother after the Polpot regime. "The advantage we have is because we are a group, when we make a sale, we share all the money between the staff here. I want my customers to buy my products so I can support my fellow weavers.'
"I decided to move my shop to the market because the association helps handicraft products, and guests that come to the market focus on products that are made by hand,' Seyhak Son explains. "I have 11 people working with me. All of my people have different skills and work hard. The customers who come here, when they buy my products they are very happy. They support us because all my products are made by hand and they like the Cambodian style as well as the traditional style.'
The fact that thousands of tourists leave the country with fake souvenirs sold by Siem Reap market vendors is frustrating for the proud artisans of the region, who want their culture represented by genuine handmade art and craft rather than cheap, manufactured trinkets. The damage imported souvenirs does to their income is significant, but equally concerning is the lack of authenticity.
"Imported products are much cheaper but not as good,' says Chun Nam, a basket weaver from Krabel Riel. "It [the Fair Trade Village] Â means there are more jobs for the village and more money for the basket weavers. I hope it expands basket weaving in the village.'
"If you compare the products that are made by hand and the ones that are made by machines, they are so different,' Him Young explains. "Using a machine, they can weave 50 scarves in one day, but I can only make one scarf in a day. Even though my work is very difficult, I still enjoy making them by hand.'
"If people want to buy handicrafts, take time to look at the detail,' says Sarouen Sean. "You will see the difference when an item is handmade.'
The Fair Trade Village is the only market in Siem Reap exclusively selling authentic handmade Cambodian handicrafts. Visitors can also tour the artisan workshops to see why genuine handmade products are far superior to the imported copies commonly sold at Siem Reap market stalls.